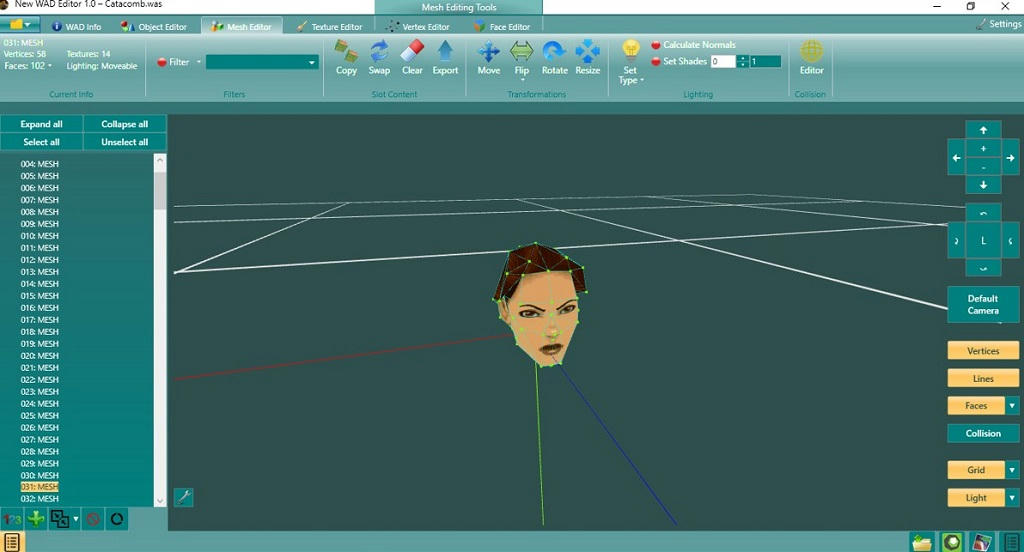 This is a new WAD editing application that is still unfinished, but it can already do many things. I have added tips inside the app that explain the different functions. Just hold the mouse over buttons to see tips.
The most important feature is the possibility to export and import MQO files with their textures. You can texture a mesh in Metasequoia and import it to your WAD using this app. However, due to limitation in the WAD file format, it is not possible to store UV mapping data. The imported textures must be rectangular or triangular with 90° angles. Otherwise the app will try to correct the UV points and this may produce unexpected results.
The WAD file format cannot store mesh faces without assigning textures to them. If you import a mesh with untextured faces, the app will dye them with a 1x1 pixel black texture.
The app has advanced lighting controls. You can use three different types of lights (ambient, directional, and point). By default, the ambient light is set to (255, 255, 255), which is the maximum light. This will obscure the other lights. In order to see a directional or point light, you need to reduce the ambient light color values.
Mesh faces with the shine attribute will shine when a directional light falls on them, but the shine is not identical to the one in the Tomb Raider engine. The app will also render translucent faces, and will apply shades to vertices of static meshes. You can set the shade for each vertex. The app can calculate vertex normals that are weighted for the adjacent face areas as well as the adjacent angles.
The app has advanced features that can dramatically reduce the storage size of the WAD by removing redundant meshes, textures, and texture pixels. For example, the app can make several textures use the same pixels even if the textures have different dimensions. All such size-reduction features are optional. You can disable them if you don't want them.
Download link for New WAD Editor 1.0
Edit
latest version:
New WAD Editor 2.5