Hi,
I was planning to have a zero click ledge (Ref 2nd pic below to understand my requirement) in one of my levels, I tried to have 2 rooms, 1 stacked on top of another, in the top room I selected all the floor tiles except where I wanted the ledges, the door got created and I got a zero click ledge created (1st Pic at bottom, the ledge is on left wall), I textured the tile from both the rooms, now the problem is when I get on top of that ledge and move Lara on it, I can see the textures in the room below getting vanished and blacked out(Ref 3rd pic at end of this post).
Also Lara is unable to grab the ledge when she swings off from the parallel bars.
I even have an object which I can use, do you have any idea which slot should that object be in so that I can make Lara stand on it, in mid air?? And I also want Lara to grab on to its edges
Can I use the object in FLAT BRIDGE slot??
1st Pic - Zero Height ledge at design time
2nd pic - Zero height ledge in game
3rd pic - The textures get blacked out below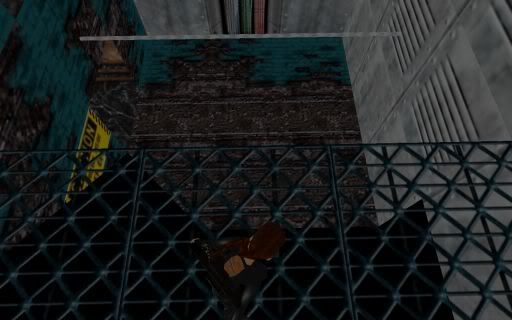 Any suggestions on how to achieve this would be appreciated