Back To Basics 2020 - Tibet - Builder Registration
Find list of officially registered builders
HERE
- contact MichaelP per PN or email in case of questions.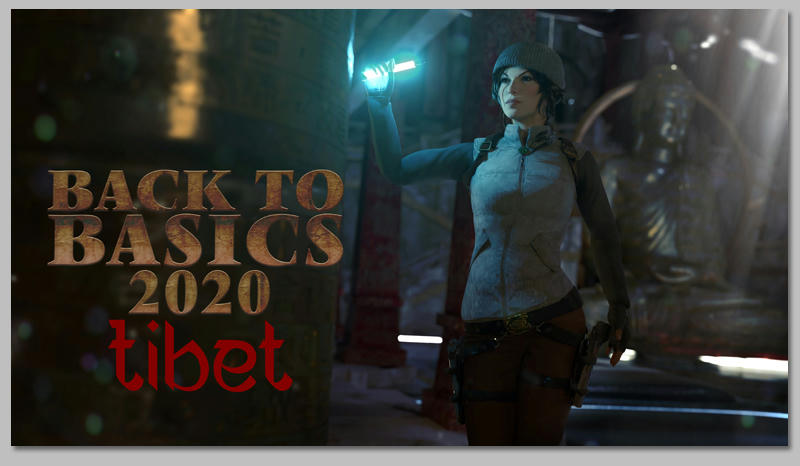 The Builder's registration for Back To Basics 2020: Tibet is now
CLOSED
(edited 17th December 2020).
It's time again for a new round of Back to Basics
! The theme for the competition is Tibet and that will grant both builders and players with a familiar setting and a jawdropping package that will produce outstanding levels that will keep you busy raiding for many hours.
Tibet got its BtB treatment finally. Many people (me included) loved the Tibet section in TR2. There's something inexplicable about this place that makes it so mystical, spiritual, beautiful, calming and with many stories, legends and traditional folklore that will surely inspire builders to bring excellent games to players.
With BtB Tibet, you'll be able to create Tibetan environments, but not only that: the Himalayas, Nepal, Shambhala are possible destinations too! What about developing a story inside an impressive monastery with a dark secret inside? Or what about exploring the leftovers of the accident that made Lara the Tomb Raider we know? Just two examples and your creativity is the only limit.
The Back To Basics 2020: Tibet Builder's Package has been under construction by the BtB2020 Package Team for quite a while and in the background, to ensure tranquility and no pressures. Tibet was an easy theme to choose since with this BtB we wanted a fresh start for the series and the best idea was going to the roots, to the beginning of all.
And, although rewarding, it has not been an easy task: almost a year in a secret production with a small team of dedicated people working non-stop, is a proof of that.
But as usual, each year the team tries really hard to deliver a package even greater than the last one and that is translated into a huge effort. The Space package was a complete challenge but it paid off really well if you ask me. The team has pushed the limits again to deliver stunning assets and marvellous new music songs composed and performed by yours truly, along with a nice selection of classic and more recent TR tunes (Reboot era) in order to bring our fellow raiders all the best. You'll find even much more inside!
The package is now in the final testing phase and should be ready to be sent to registered builders at the completion of the registration period. Needless to say that this is an amazing theme, one that many fans will hopefully look forward to raiding too and I hope many builders will register to build impressive levels for the competition.
Planned Schedule:
(please note these dates may be revised depending on the number of registered builders and/or submitted levels for the competition).
- From 18th November 2019 to 15th December 2019 -> Registration period.
- From 16th December 2019 to 17th May 2020 -> Building period (Betatesting of levels included).
- From 18th May 2020 to 14th June 2020 -> Will be left clear for packaging everything up, final fixes, re-tests and final release preparations.
- 15th June 2020 -> Levels will be released anonymously on trle.net.
- From 15th June 2020 to 6th September 2020 -> Players Competition phase.
- 7th September 2020 -> Competition winners will be announced.
Registration:
To register for the building competition:
- You must be a registered member of the TRLE Community Forum.
- Send Michael (MichaelP) an email message to
michael@mprager.de
.
- The email message should have the Title: BtB2020-Tibet Registration.
- The email message text should provide the following information:
* Your nick, first and last name.
* A valid email address.
* A valid postal address.
* And the text:
"Please accept this email message as my registration application for the BtB2020-Tibet Builder's Competition. I will not release the BtB package or any component of it or information about it to anyone. This is also applicable in case I choose to drop out of the competition. It is the Package Team's job, with the agreement and permission of Michael, the ones to release the package (full or a part of it) to the community when they estimate it so. "
A valid postal address is mandatory for a satisfactory registration to this competition. Do not expect a personal validation of your registration application from MichaelP. Check
the registered builders list
instead, which will be created in the forum as we receive registrations to see if you are on.
Please note that you will not be given immediate access to the Back To Basics 2020: Tibet subforum and the package. The subforum will be opened up for the participating builders at the end of the registration period. You will be notified when you have access to the private builder's subforum where you'll find everything you need in the competition.
The builder's package will contain everything that you require to build your level. You will simply unzip the package and you are ready to start building.
In addition to the building components, the package will contain a full wad list with credits and instructions for special setups, an image-based ready reference for all wad items and a full custom audio list with credits.
For those of you who are new to Back to Basics:
The "Back to Basics" challenge is to build a single level of about one hour net of gameplay with every builder using only the supplied components of the package.
Back to Basics is targeted at both experienced and inexperienced builders. The private builder's sub-forum provides a great environment for builders to help other builders and to receive personalized technical advice when building your level.
Audio tracks, objects, textures and so on will be part of the BtB package that builders download. The only tool you may use in this competition to build your level is the supplied version of the NGLE, the converter, NG Center and tomb4 that are included in the Builder's package. The only exception to this is that builders running 64-bit Win7 Win-8 Win-10 might need to use DOS-Box to compile their scripts and the use of WadMerger to change horizons (as it has been done before).
New rules to the BtBTibet competition.
We've listened to you and here we bring you exciting news
! Tomb Editor is in the package and you'll be able to choose either NGLE + TRNG or TE (with or without TRNG) to build your levels. It's up to you what to choose and much more since you'll be getting free permission to use all the features the editors (except in one case) and the engine offer to you. No restrictions on them, only your imagination and your abilities with the tools and the assets
.
By registering, you choose one editor and accept its pros and cons. You'll be assisted in the private subforum, of course, as usual by some experts in the subject and by all the contestants who share their help to contribute to this amazing competition.
BUT
, don't forget that this is a BtB competition and there are some restrictions to it explained below:
- You are free to use either NGLE+TRNG or Tomb Editor (with or without TRNG) as you please, but you are expected to just work with the assets and tools provided in the package and make no modifications to them: Alternate load, artworks, title level, WADs, TGAs (both official and beta), Horizons, Audios, title track or change it for another one, sounds, documentations, pix and tomb4.exe.
- You can change the HORIZON object and the ANIMATING 16_MIP by choosing another horizon as in past competitions.
- We're aware that you can have multiple TGAs in Tomb Editor. You can't use this feature as your level must just have the official TGA at the end in it and not the Beta TGA in any way (but you can model your level with the Beta TGA first and then use the official one).
- You can't change the 'non-customizable' section of the script (as that's wad and more of the competition stuff). But you can change the rest as much as you want.
- You can't crypt the script nor the tr4 file and you can't also use meta2TR and/or FLEP.
- The same deadlines proposed in this opening post remain the same.
- The same way of registering in the competition remains the same (and yes, builders have to be members of trle.net, because this is a trle.net competition. TRF or any other forum members will have to register here if they want to be contestants as usual).
- For this competition, we won't ask you neither the .TOM file nor the .PRJ one. You MUST produce just ONE .tr4 file. We won't convert a single thing. As we're trusting you, we expect you to follow all the established limitations.
Final submission of your level for the builder's competition will be by submitting:
- Your final level .tr4 file.
- The Plugin_ClassicInventory.dll.
- And your script.dat and English.dat files.
To sum up, you're free to
do what you want with the editors
as long as the BtB assets allow you to do that. But obviously,
any changes to the BtB assets
(explained above)
are forbidden
.
Competition:
There are two phases to the Back to Basics competition.
- Builder's Competition - Levels which receive the highest average review ratings on trle.net for the competition period. Note that for administrative reasons, Laras Levelbase, AspideTR and any other websites out there reviews are NOT included in the evaluation.
- Player's competition - Guess the builder competition. Players can submit their guesses as to which builder built which level.
For the competition, the builder's levels will be released anonymously by the author "BtB2020". This way, reviewers can send in their reviews without favouring any level builder. The player's competition will be around 3 months duration (but dates can be altered depending on the released levels). The identity of which builder built which level will be revealed at the completion of the competition period. Until that time, no-one is allowed to give away any information about who built which level. The builders with the highest ratings win the builder's competition.
Players can submit guesses about who built which level and the players who have guessed most levels and builders correctly will win the player's competition.
Beta-testing and confidentiality:
Builders must get their levels beta-tested before release. Don't leave this until the last minute. This should be done in the final month of building to ensure that you have time to fix things during the testing phase.
Builders must declare in the private subforum who their testers are. Testing can be conducted in the private builder's subforum, either by other builders in the competition or by the experienced in-house beta testers that will be available. Builders can have their level tested independently, but you must declare who the testers are. Externally sourced testers must also protect the anonymity of the builders and levels and will not have access to the builder's sub-forum. Externally sourced testers may participate in the player's guessing competition, but obviously any levels that they tested will not be counted in their guessing tally, since they already know the builder identity of the level(s) that they have tested.
Final words.
Registration somewhat relies on the honesty and integrity of the TRLE community. Before registering, think about it twice, check your daily duties and commitments and remember:
this is a competition and if you are not seriously intending to build a level for it, then please don't register.
I'm really happy and excited there's a new edition of this awesome competition at the end
. Best wishes and good luck to our registered builders
. I wish you a good time building your level
!
Jesus (Jesus C.Croft) on behalf of the BtB2020 Package Team.
Show your support for BtB2020 - add this banner below into your signature.