Back To Basics 2018 - Space - Builder Registration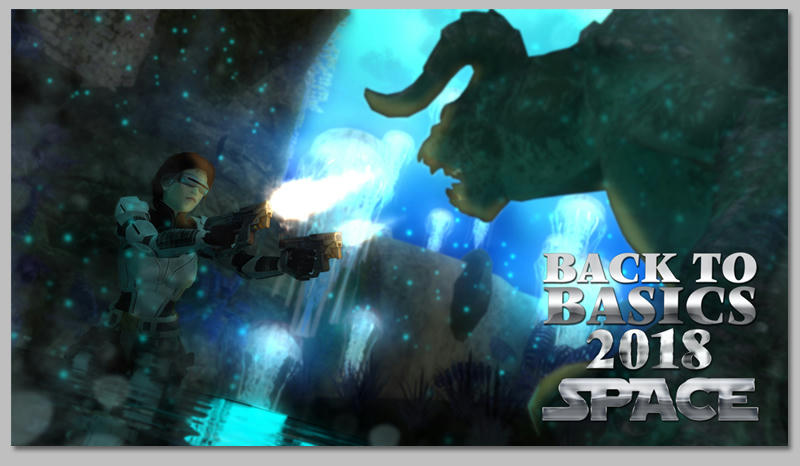 The Builder's registration for Back To Basics 2018: Space is now
CLOSED
(edited 4th December 2017).
For full list of registered builders see here:
Builders List
.
(Please if you're still not in the list, allow Michael some time to sort all the possible remaining registrations. Thank you.)
Time for a new round of Back To Basics
! This time, the theme for Back To Basics 2018 is Space. This theme got a lot of interest when sometime ago, a thread to discuss potential themes was created. Among others, Space was quite demanded and it grew bigger in the team as an excellent choice for the next Back To Basics after the incredible and successful last edition.
It's time to launch Lara into space. There are extraordinary civilizations and precious treasures out there for us to discover and that our intrepid tomb raider wants to explore and retrieve. Not only you can venture her into the space while discovering new stars, walking along the moon, lurking into abandoned spaceships or getting sucked by worm holes… to name a few examples; but you can also make her explore alien planets of different types. Space is a wide theme in which everything can have its place and its reason to be. The resources cover a wide range of scenarios; the imagination is the only limit.
The Back To Basics 2018: Space Builder's Package has been under construction by the BtB2018 Package Team for quite a while, more or less since the birth of the Persia package. They were like 'brothers' for some time. But many key events took place during our process of making the Space theme a real product which caused some internal changes in order to, hopefully, complete our challenge: skipping a BtB2017 edition to start fresh and ready with a new and effective plan was one of the changes.
As you know, each year the team tries really hard to deliver a package even greater than the last one and that is translated into a huge effort. The Persia package was an incredible one, but the team has pushed the limits again to deliver jaw-dropping assets and marvellous new music songs composed and performed by our brilliant and talented music composers, in order to bring our fellow raiders all the best. You'll find even much more inside, you'll see!
The package is now in the final testing phase and should be ready to be sent to registered builders at the completion of the registration period. Needless to say that this is an amazing theme, one that many fans will hopefully look forward to raiding too and I hope many builders will register to build an impressive level for the competition.
----------------------------------------
Planned Schedule:
(please note these dates may be revised depending on the number of submitted levels for the competition).
6 Nov 2017 - 3 Dec 2017: Builder's Registration period.
4 Dec 2017 - 6 May 2018: Level building phase (around 5 months; beta testing phase is included in this period!).
7 May 2018 - 3 June 2018: Will be left clear for packaging everything up, final fixes and re-tests and final release preparations.
4 June 2018: Levels will be released anonymously on trle.net.
4 June 2018 - 2 Sept 2018: Player's Competition phase.
3 Sept 2018: Competition winners will be announced.
----------------------------------------
Registration:
To register for the building competition:
- You must be a registered member of the TRLE Community Forum.
- Send Michael (MichaelP) an email message to
michael@mprager.de
.
- The email message should have the Title: BtB2018-Space Registration.
- The email message text should provide the following information:
* Your nick, first and last name.
* A valid email address.
* A valid postal address.
* And the text:
"Please accept this email message as my registration application for the BtB2018-Space Builder's Competition. I will not release the BtB package or any component of it or information about it to anyone prior to September 2018, when it will anyway become publicly available. This is also applicable in case I choose to drop out of the competition."
Do not expect a personal validation of your registration application from MichaelP. Check the
registered builders list
instead, which will be created in the forum as we receive registrations to see if you are on.
Please note that you will not be given immediate access to the Back To Basics 2018: Space subforum and the package. The subforum will be opened up for the participating builders at the end of the registration period. You will be notified when you have access to the private builder's subforum where you'll find everything you need in the competition.
The builder's package will contain everything that you require to build your level. You will simply unzip the package and you are ready to start building.
In addition to the building components, the building package will contain a full wad list with credits and instructions for special setups, an image-based ready reference for all wad items and a full custom audio list with credits.
For those of you who are new to Back to Basics:
The "Back to Basics" challenge is to build a single level of about one hour net of gameplay with every builder using only the supplied components of the package.
Back to Basics is targeted at both experienced and inexperienced/new builders. The private builder's sub-forum provides a great environment for builder's to help other builders and to receive personalized technical advice when building your level.
In Back to Basics 2018 we will be using again an old version of the NGLE (which is much more stable than the original winroomedit, but it doesn't support any of the new TRNG features) in combination with an exe patched with TREP so that it can handle large levels and detailed objects and provide a set of pre-defined flipeffects.
Audio tracks, objects, textures and so on will be part of the BtB package that the builders download. The only tool you may use in this competition to build your level is the supplied version of the NGLE, the converter and tomb4 that are included in the Builder's package. The only exception to this is that builders running 64-bit Win7 Win-8 Win-10 may need to use DOS-Box to compile their scripts.
Please note: TRNG is not used at all and no help or assistance will be given as well in this matter. That means that the NG Center is not used and there are no special flipeffects or scripting involved.
You can customize your script using the traditional method of TRLE scripts. (script.txt and English.txt) e.g. you can customize the names of your inventory items, create customised sky colours, etc.
Final submission of your level for the builder's competition will be by submitting your final level editor TOM file and your script.txt and English.txt files. The project files for each level will be then compiled by MichaelP for final packaging prior to release, thus ensuring that the levels are compiled only using the supplied components of the package.
Competition:
There are two phases to the Back to Basics competition.
- Builder's Competition - Levels which receive the highest average review ratings on trle.net for the competition period. Note that for administrative reasons, Laras Levelbase and AspideTR reviews are NOT included in the evaluation.
- Player's competition - Guess the builder competition. Players can submit their guesses as to which builder built which level.
For the competition, the builder's levels will be released anonymously by the author "BtB2018". This way, reviewers can send in their reviews without favouring any level builder. The player's competition will be around 3 months duration. The identity of which builder built which level will be revealed at the completion of the competition period. Until that time, no-one is allowed to give away any information about who built which level. The builders with the highest ratings win the builder's competition.
Players can submit guesses about who built which level and the players who have guessed most levels and builders correctly will win the player's competition.
Beta-testing and confidentiality:
Builders must get their level beta-tested before release. Don't leave this until the last minute. This should be done in the final month of building to ensure that you have time to fix things during the testing phase. Builders must declare in the private subforum who their testers are. Testing can be conducted in the private builder's subforum, either by other builders in the competition or by the experienced in-house beta testers that will be available. Builders can have their level tested independently, but you must declare who the testers are. Externally sourced testers must also protect the anonymity of the builders and levels and will not have access to the builder's sub-forum. Externally sourced testers may participate in the player's guessing competition, but obviously any levels that they tested will not be counted in their guessing tally, since they already know the builder identity of the level(s) that they have tested.
To those who register and then quit after a short time:
Have in mind that the registration somewhat relies on the honesty and integrity of the TRLE community. There are always people that register, receive the assets and after a short time, they leave the competition. Of course, life is unpredictable and things can happen in just a second. But that shouldn't count when you make a decision to join in a competition with a final and established purpose.
Before registering, think about it twice, check your daily duties and commitments and remember: this is a competition and if you are not seriously intending to build a level for it, then please don't register.
Best wishes and good luck to our registered builders. I wish you a good time building your level!
Jesus (Jesus C.Croft) on behalf of the BtB2018 Package Team.
Show your support for BtB2018 - add this banner below into your signature.